Brisbane holistic personal trainer, sports dietitian & nutritionist
| | | | |
| --- | --- | --- | --- |
| Name | Description | Price | |
| Private Initial Consultation (Extended) | 60 minutes | $150.00 | CONTACT |
| Private Initial Consultation (Extended) | 45 minutes | $125.00 | CONTACT |
| Private Initial Consultation (Standard) | 30 minutes | $100.00 | CONTACT |
| Private Concession Initial Consultation (Standard) | 30 minutes | $80.00 | CONTACT |
| Private/Concession Review Consultation (Standard) | 30 minutes | $70.00 | Contact |
| EPC Initial Consultation (eligible for medicare rebate; concessions bulk-billed) | 30 minutes | $70.00 | contact |
| EPC Review Consultation (eligible for medicare rebate; concessions bulk-billed) | 30 minutes | $70.00 | contact |
| Skinfold Test | 15-20 minutes | $30.00 | contact |
| Healthy Eating Plan - eBook | 55-page eBook assisting you with education surrounding healthy eating, food label reading, exercise, general nutrition guidelines and meal plan ideas for breakfast, lunch, dinner and snacks | $49.95 | contact |
Important Billing information
Bulk-billing is an available option for those eligible clients referred via an
EPC/TCA plan who hold current pensioner card, health care card, concession card, seniors card or <18 years of age
.
Should you wish to have a longer consultation then please advise upon booking your appointment.
For clients who are ineligible for bulk-billing, full consultation fee must be paid at the time of the consultation and a Medicare rebate of $55.10 will be submitted as of 1 July 2021.
Bulk-billing is also an available option for those eligible clients referred via a
Department of Veteran Affairs D904
. 
We are
registered providers
with various
Private Health companies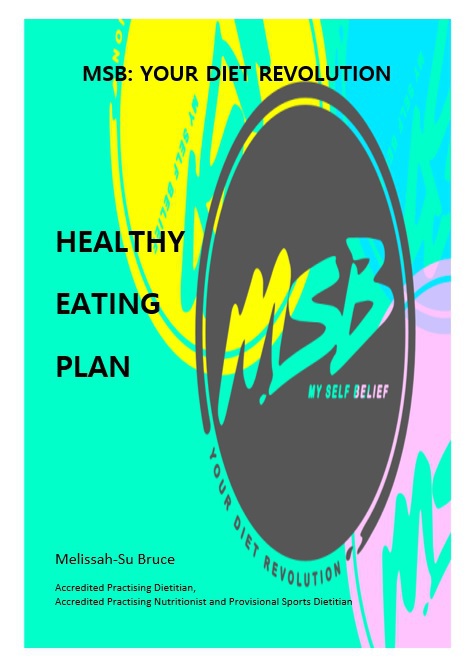 eBook - Healthy Eating Plan
This e-book is available from http://www.safesailing.com.au/portfolio-type/msb-diet-revolution-healthy-eating-plan/ for purchase if you felt that you did not need a one-on-one consultation.
Please note that before starting any new program it is always important to discuss further with your doctor or medical practitioner for guidance.
IMPORTANT WHEN PURCHASING:
1. Note down the password during payment through Paypal
2. Once you purchase, on the final page to say thank you for your payment please ensure you press "Return to MSB: Your Diet Revolution" and this will allow you to then enter the password and download..
If you experience any difficulty then please don't hesitate to contact me on msbyourdietrevolution@gmail.com